As the title says, the first Sherman platoon is done. I've decided I'll get everything painted to basic tabletop standard before I worry about unit markings and so forth.
(Forgive the harsh lighting - it's swallowed some depth to the green for sure.)
Sneaky RT Imperial Guard Command Squad and Plague Marine in the background....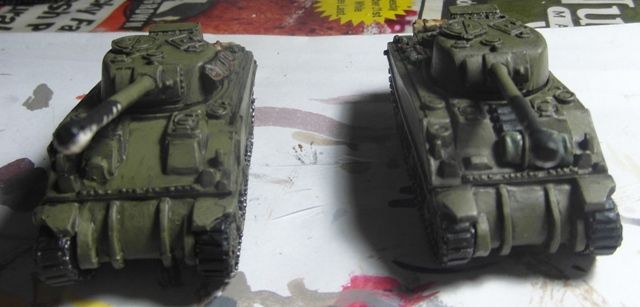 Did someone mention "Don't glue magnets to turrets whilst inebriated or else you end up with wrong hulls on the wrong tanks"? Oops.
My attempt at the wierd effect on these gun barrels.... not sure it looks right and might have to come back at a leter time to tidy it up.
Now that they are done, to change it up a bit, I've started on the 6pdrs and almost finished the guns. Just the mass of gunteam figs to go. :)