Xmas is over and I'm back to work. Bottomless Mimosas (Bucksfizz to you Brits), huge turkey dinner and sleep deprivation (Due to my son waking us up at some ungodly hour to see what Santa had left him.) saw me out for the count and snoring around 5pm. Sad, but it also meant I got to dodge my in-laws visiting, so not all bad. Heh.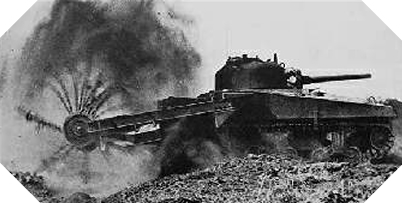 I love these things in Company of Heroes. Charging a unit of infantry is a messy business! :)
Hobby gifts were a little sparse - I got another set of magnifying lenses for my perfect-up-close-eyes and a pair of Flames of War Sherman Crab Mineflail tanks that looked like they'd sat on some shop shelves for a long time; so much so that the blister packs were cracked and a load of pieces were missing! Email sent to the seller to see what can be resolved.... ~_~
I got a little painting done. The Heroquest Sorcerer finally got the love he was promised. Being that he's going to be used as some sort of Death Cult Evil Priest type, I went with attempting a blue-grey skin colour and the requisite red (= evil for sure) tabard. The orb thing between his horns I painted similarly to the
orb that my Necromancer is holding
to key in so everyone can work out who's side they're on.
I caught a salmon, THIS BIG. 'uge it was!
Of course my son inquired as to whether he was wearing small-clothes....
And lastly, I got to finishing up the pre-primer basing on some random fantasy minis that I found and have added to my mass of rpg minis waiting for paint.